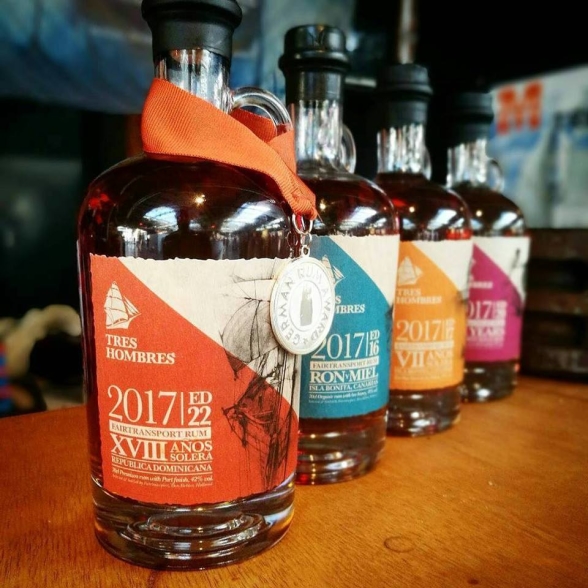 Ed. 16 Ron Miel La Palmera
Back in the days of manual sugar cane harvest, this hard work was carried out by both the men and women of La Palma. Under the hot Canarian sun and the fresh breeze from Africa the workers sometimes enjoyed a sip of strong caña, as the Canarians call the high spirited, self distilled sugarcane schnaps. The woman, who wanted to share a sip with the man, added a bit of honey to make the harsh liquor more drinkable, 'which is how honey rum came into existence. Nowadays we all drink this fine spirit, made of 100% organic and local sugar cane and La Palma bees honey. Palmera is the name of this fine rum from the Aldea distillery, to honor the good idea of the island's women.
Ed. 17 Ron Duro de La Palma
7 years of aging at the Northeast tip of the island and in the constant breeze at the Aldea Distillery, 7 months of sailing in the belly of our fine ship Tres Hombres and 7 more months in the cool and humid atmospehere of the Netherlands...These are the circumstances which make this powerful but refined rum from the Quevedo family, made from 100% pure La Palma sugarcane, an extremly drinkable spirit with a strong character. Attention - share this bottle! You might become too strong when drinking it alone...
Ed. 20 Porto Bayan Rum Barbados
Distilled in 2005 in the pot stills of Foursquare Distillery in the St. Georges valley, this is the spirit Tres Hombres brought us from Barbados in 2017. After a smooth ocean crossing we anchored in Carlisle Bay in cristal clear water surrounded by white beaches. We soon emptied the surprisingly fine Port wine left in the barrels in our eagerness to replace it with some of the wonderful spirit Richard Seale produces on this beautyful island. He achieves this using well kept family traditions and skills from several generations. Distilled cane molasses without any additive, Bourbon barrels and the Caribbean heat are the ingredients of what entered our 7 Portwine casks, to give this Bayan rum its finishing taste. The atlantic voyage gave its neverending stories....to be enjoyed by the sea!
Ed. 22 Ron Premium Porto Dominicano
The ladies from the harbor of Boca Chica were delighted when together we tasted the last drops of Port wine from the barrels, shared on the deck of the ship. This was unfortunate but necessary work for we needed these barrels empty. They were destined for a refill with a 18 year old Solera rum from Oliver & Oliver, blended and aged at the hills of Santo Domingo. The fusion of the 2 continents whose coasts are 3500 miles apart took place in the belly of the Tres Hombres. Premium Dominican Rum sailed homeward bound from Boca Chica to Amsterdam in barrels we loaded in Porto. Enjoy the roundtrip!
beställ via Privatimporten
Pris: 690 kr
Leverantör: Herida Aurum AB
Producent: Aldea
Dryck: Tres Hombres Ed 16 ........
Drycktyp: Sprit
Ursprung: Spanien La Palma
Volym: 700 ml
Förpackning: Flaska
Ed.17 Ron duro
de la palma
Pris: 649 kr
Leverantör: Herida Aurum AB
Producent: Aldea
Dryck: Tres Hombres Ed 17 ........
Drycktyp: Sprit
Ursprung: Spanien La Palma
Volym: 700 ml
Förpackning: Flaska
ed.20 porto bayan rum barbados
Pris:775 kr
Leverantör: Herida Aurum AB
Producent: Foursquare Distillery
Dryck: Tres Hombres Ed 20 ........
Drycktyp: Sprit
Ursprung: Barbados
Volym: 700 ml
Förpackning: Flaska
ed.22 ron premium porto dominicano
Pris: 845 kr
Leverantör: Herida Aurum AB
Producent: Oliver & Oliver
Dryck: Tres Hombres Ed 22 ........
Drycktyp: Sprit
Ursprung: Dominikanska Republiken
Volym: 700 ml
Förpackning: Flaska